Keliann LaConte
Professional Development Manager
Boulder, CO
Education
B.S. Univ. of Denver, 2001
M.S. Caltech, 2003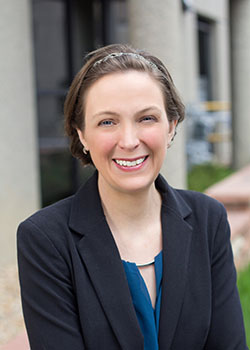 Keliann has provided STEM learning experiences to youth and adults on a range of topics in a variety of settings, from biology explorations on the beach in California to astronomy outreach in inner city Denver. Her training includes a bachelor's degree in Chemistry from the University of Denver; she also has a master's degree in Environmental Science and Engineering from Caltech, and she performed astrobiology research at JPL. She is a trained in the communication process of heritage interpretation, with certifications from the National Association for Interpretation as a Certified Heritage Interpreter (CHI) and Certified Interpretive Trainer (CIT).
Keliann has provided professional development for librarians for the past nine years, including as a member of the STAR Library Network (STAR Net) leadership team and co-convener of the 2015 Public Libraries & STEM Conference. She is currently on the leadership teams of several projects, working with partners and collaborators on the broad implementation of STAR Net, NASA@ My Library, Project BUILD, and Partners for Middle School STEM. She leads the development of active learning experiences for the library setting, working with professionals from the library, education, and STEM fields to develop a portfolio of activity guides in science and engineering content areas. She oversees NCIL's professional learning opportunities for library professionals.
As a 2018-19 Fulbright Global Scholar, Keliann is conducting research and professional development on the topic of STEM learning in libraries in Australia and the UK.