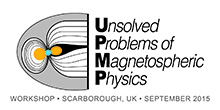 Unsolved Problems in Magnetospheric Physics Workshop
Crown Spa Hotel
Scarborough, UK
6-12th September, 2015
*Special Section of JGR*
(http://agupubs.onlinelibrary.wiley.com/agu/issue/10.1002/(ISSN)2169-9402(CAT)SpecialIssues(VI)UPMP/)

*Editor's Vox on UPMP*
(https://eos.org/editors-vox/even-magnetosphere-problems)
---
Workshop Topics
The workshop will focus on unresolved problems in magnetospheric physics. Example discussion topics are detailed below:
UNSOLVED PROBLEMS IN MAGNETOSPHERIC PHYSICS
What are the plasma pathways into and through the magnetosphere?
When, where, and why does reconnection occur? Is it steady or transient?
Localized or extended?
What determines the substorm onset and the substorm evolution?
How does solar-wind/magnetosphere coupling work?
What is the source of the 3-hr period of magnetospheric dynamics?
What powers auroral arcs and what is the impact of aurora on the dynamics of the magnetosphere?
How does polar-cap saturation work? How is the polar-cap potential related to dayside reconnection?
How significant are kinetic processes in the foreshock for the solar wind-magnetosphere interaction?
How do the nightside and the dayside of the magnetosphere communicate?
How do the northern and southern hemispheres couple?
What is the connection between ionospheric signatures and magnetosheath and magnetotail processes?
Can we predict and quantify ionospheric outflow rates?
What are the actual values of ionospheric conductivity, how does it vary, and how does it affect the magnetosphere?
What determines whether a storm produces a radiation belt enhancement or depletion?
How important is fine scale structure in the solar wind, in the magnetosheath, in current systems, in the ionosphere, in magnetospheric plasmas, and in magnetospheric flows?
What controls the distribution of mass in the magnetosphere and how does the mass distribution influence the magnetosphere's properties.
FUTURE OF MAGNETOSPHERIC RESEARCH
What are the new frontiers of reconnection research?
What needs to be done to predict the dayside reconnection rate?
When will we be able to predict magnetospheric activations?
How important are scaling laws in magnetospheric physics?
How important are magnetospheric feedback mechanisms to the dayside reconnection rate?
Can we understand the details of a non-linear system using "linear" physics?
Can we quantify the energy flow into and out of the magnetosphere?
How does the magnetosphere change under unusual solar-wind conditions?
For the radiation-belt problem: do we need better physics or better boundary conditions?